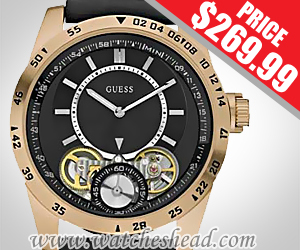 If guys are not as impulsive as girls they, on the other hand, can get too discreet when it comes to fashion. Instead of wearing high end brands of clothes or wearing too much jewels at hand, any guy would rather opt for one simple yet impressive stud that is as cool as this  W22515G1 Guess Strategy Rose Gold Plated Men's Watch.
Guess watches are popular for their modern-inspired designs and technical features with, of course, a touch of elegance. That is why it's no surprise to know how impressive can this Guess Gold Plated Men's Watch get. Guess watches for men need not to be extremely voracious to make it noticeable or attractive coz even the simplest type can create a distinct mark. Just look at this featured watch and it might just impress you all the more. W22515G1 Guess Strategy Rose Gold Plated Men's Watch holds the combined casual and sporty style in a very sophisticated approach. This is the kind of hand accessory that a man can sport with their daily ensemble whether it's formal, business casual or just any plain, comfy weekend outfit. It looks naturally charming with rose gold tone embellishments and manly design.
Watcheshead is selling it for a very affordable price, so better not miss it!
*******************************************************************************************************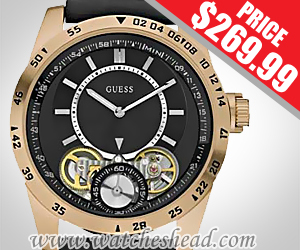 W22515G1 Guess Men's Watch

Sale Price: 269.99$