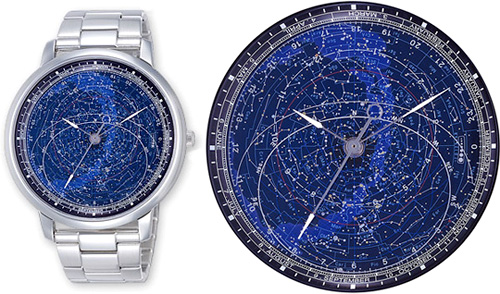 There are times in our lives that we just want to look up in the sky and gaze at its beauty because of the calming effect that it brings. Today, there's no need for you to look up to the sky to just experience it as it is now available on your Citizen timepieces with this Astrodea Stargazing Watch Collection by Citizen.
This Citizen Astrodea Stargazing Watch Collection is comprised of several timepieces that include the galaxy like theme. One of them is being shown on the above image. This timepiece that we are presenting you today is designed with a stainless steel material which they brushed and polished to create a very irresistible glow that many will be attracted to.
Aside from the case and bezel, the bracelet of this watch is also made with the same materials. This watch is highlighted with a blue dial that includes speckled accents on it which looks like a top view of the world with the sky. This dial also includes real constellations which makes this timepiece more attractive.
This timepiece, along with the other Citizen Astrodea Stargazing Watch collection will be available soon through Citizen retailers and online stores. Each of these Astrodea watch will include an approximate tag o $500.00.