Nautica Watches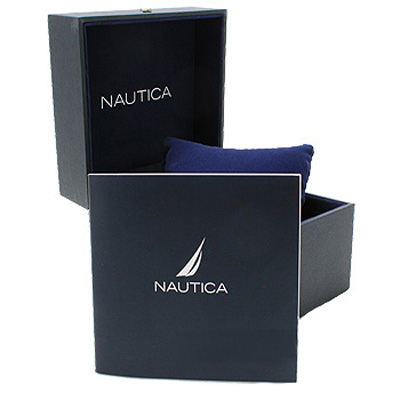 Nautica is a world famous brand that started off as a line of men's sportswear. It started in 1983 and since then has been bought by various companies. Today, the brand has grown and evolved into a wide range of other products aside from men's sportswear, they now have apparel for men/women/kids, as well as fragrance, home collection and watches. Nautica watches have distinctive designs and quality that portray the American lifestyle.
Each Nautica watch can create a statement, each being unique and bold in its own way. Nautica watches are always carefully designed and meticulously pieced together all from some of the finest and most expensive materials all over the world. May it be men's Nautica watches or Nautica watches for women, the brand is made to succeed in every way, in function, practicality and of course style. Wear it to polish you outfit, wear it to accompany your adventurous lifestyle or your fashionable ways, however you wear it, Nautica watches deliver. Nautica women's watches convey the grace, the beauty and the delicateness of a woman yet at the same time, they are one of the toughest, most durable watches there is. It captures the essence of a woman, which is a reason why ladies like watches from Nautica. For the men however, Nautica watches can be like a dream car, there's the sports type, the luxury type and the muscle type. Nautica men's watches represent the masculinity and the substance that lies within a man, it looks all glamorous and stylish when you look at it, but its all business inside, working precisely right on the clock. Truly, the brand captures the heart-and-soul of a trusty watch, stylish, durable, trust-worthy, functional and practical, built to accommodate the wearer on his/her choice of lifestyle, especially a life lived in adventure, athleticism and activity. If Nautica watches it is you're looking for then Watcheshead is the place for you, it is the only place where you can be treated more than just a customer who looks into the supply and purchases, at Watcheshead, you are valued more than your purchase. Live chat agents are more than eager to assist you and share an expert opinion; also, only at Watcheshead can you find the lowest prices on some of the most luxurious and expensive watches such as the Nautica chronograph watches, which are some of the best selling watches in the site. Look around and discover discounts and slashed prices that will give you better value and savings.
So what are you waiting for? Start watch-shopping.
WHY SHOP WATCHESHEAD ?
Free Shipping
100% New & Authentic
2 year warranty
Up to 80% OFF Retail