Movado Watches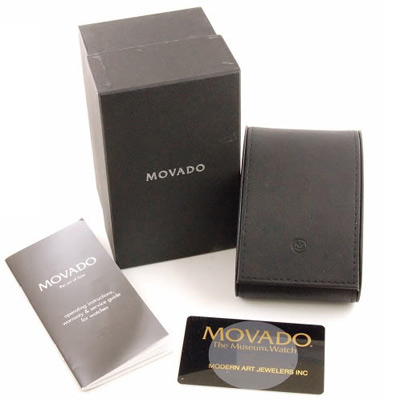 Movado watches are known for their designs which are very contemporary, subtle yet bold enough to make a statement. With designer watches for men and women, here is a brand that truly understands the needs of the modern consumer. Comfort, color and style that suit your every mood, a Movado designer watch does more than tell time, it enhances your personality. It is easy to tell a Movado watch apart from many others, a trait that not only makes it very popular, but one that makes people remember it. The delicate balance between design and color is seen in the simplicity of the single tone dials with contrasting colors seen in the hands. The absence of time indicators is a stand out feature that makes this watch a real seller. Every Movado designer watch is a visual treat.
The Movado Kara Women's Stainless Steel Watch is a beautiful creation which enhances the beauty of the woman who wears it. With an elegant design and use of color supported by a non conventional yet stylish bracelet makes this watch an instant hit. When you first look at it you can't help but fall in love. Surprisingly affordable at just $200 this watch is not only a great personal purchase but is a very good gift for someone you love.
Movado's focus on high quality design and features can be seen in the Movado Esperanza Men's Watch, one that really stands out. This stainless steel masterpiece is a great buy for the fashion conscious male. A well laid out chronograph display with a matching silver bracelet makes this single tone timepiece a must have in your wardrobe. At $1895, Movado has an offering of true class and sophistication.
It is therefore no surprise that this brand is one of the top players in the industry.
Our Latest Reviews:
WHY SHOP WATCHESHEAD ?
Free Shipping
100% New & Authentic
2 year warranty
Up to 80% OFF Retail