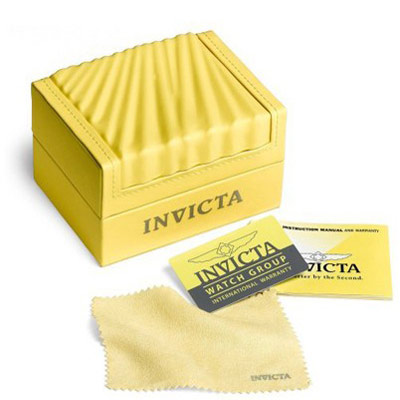 INVICTA WATCHES
If you stand for never-ending possibilities to be undefeated and unconquered, Invicta stands for you. Stick true to your beliefs by sticking to the ideal selection and wise decision of getting your Invicta watch today!
At Watcheshead we provide our customers with genuine Swiss Invicta luxury. Why resist the power and precision of this fashionable Swiss lifestyle?
Invicta is one of Switzerland's best known brands, specializing in graceful wrist watches for men and women. The Invicta pro-diver can create a deep quest for an oceanic foray.
The special collector's edition for women called the Invicta 7062 Women's Swiss Quartz Sapphire Diver Watch features an anti-reflective sapphire crystal glass. The red and black interface complements the steely strap. It isn't hard to notice that the great design is excellent to be worn out of the deep blue sea too. It is quite irresistible to the woman who takes the chance to own the reputed brand.
Amongst the variety offered, one of the most desired picks is the Invicta 7267 Men's Signature Corduba Automatic watch, which is quite natural. It is automatic and self-winding.
Budget Invicta watches for women feature Lupah Espadon Lorica strap version at an unbeatable price of $246 USD. The color is available in mustard yellow, signature sky blue, and mild orange, which all bring a delectable zing to the hands that sports Invicta owners.
Authentic collectible offers can all be purchased here online at great tangible prices at Watcheshead! Get yours today by joining the Invicta pact, to experience yourself the high quality, value and care in every single timepiece created.
WHY SHOP WATCHESHEAD ?
Free Shipping
100% New & Authentic
2 year warranty
Up to 80% OFF Retail