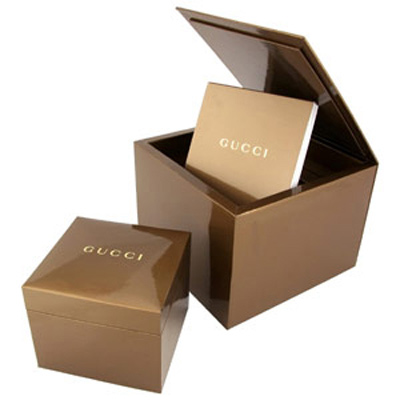 GUCCI WATCHES
A well-designed wristwatch from a well-known brand enhances one's self esteem and boosts one's ego. Gucci watches are said to invite awe and admiration from every eye. It is an eminently recognizable brand, with well-known luxury and designer collections in the competitive wrist watch market. It makes very elegant hand accessories for men and women. With a large base in Italy, the group manufactures elegant and stylish timepieces for its customers.
Gucci signature label was launched with modest beginnings at the end of the 19th century. The history of this brand can be found in Florence which dates back to the to 1921. This Italian brand is now owned by the French company PPR. From the magnificent town of Florence, Gucci brings to the fashion world creativity of design with luxury flourishes.
Reaching high revenues worldwide in past years, it has proven to be a winner in the watch segment. Every Gucci watch is distinguished by its superior finishing and style. With some of the most elegant and clean cut time pieces offered in the market, the brand has proven that in fashion, "less is more".
At Watcheshead, Gucci watches may range from $200 to $1000 USD, depending on the finishing and styling of the piece. Their quality and pricing have made it a well known manufacturer in the world. In effect, Gucci watches cater to a large variety of people right from the common man to the high net worth individuals.
Watcheshead offers its customers an array of Gucci watches, including men's watch YA126402 G Timeless Men's Watch at a low price of $458 USD with a classy stainless steel case and bracelet the quartz movement it works perfectly under water. We also offer our classy ladies watches that will add panache to their chic personality.
It's simply Gucci.
WHY SHOP WATCHESHEAD ?
Free Shipping
100% New & Authentic
2 year warranty
Up to 80% OFF Retail