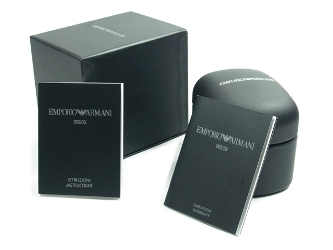 ARMANI WATCHES
"Elegance is not about being noticed, it's about being remembered", the motto to which Italian fashion designer Giorgio Armani strongly sticks to his fashion empire, Armani, has been extended and displayed all across the globe.  Armani's creations have been made into reality by the most distinctive, innovative and fashion-forward minds all around the world. By always focusing on bringing memorable and unique timepieces into people's lives, his mindset is consistently focused on the smallest details.  He observes and listens to be able to then express it in fashion. Armani created the perfect trend and style while making it practical, thus creating something exceptional.
Armani designs for the  people; offering different and contrasting styles and shapes to suit and satisfy individual preferences and taste. Top "A-List" celebrities including Hollywood's Megan Fox, Superstar athlete Cristiano Ronaldo and R&B/Pop sensation Rihanna have advertised exclusively for Armani.
Watcheshead offers you a diverse collection of Emporio Armani watches for women & men. At Watcheshead, we know that the difference between style and fashion; quality. We aim for the people of substance, for those who have eyes for both style and function. Our store features high-end ready-to-wear Emporio Armani watches, which are high quality in luxury fashion and are focused on trends and modern traits. Watcheshead takes this luxury of class, and turns it into an affordable lifestyle for everyone's personal indulgence.
In Watcheshead we strongly believe in rewarding our customers by providing an array of guaranteed genuine products, assistance from experts, quality processing and delivery to almost anywhere in the world. We offer great discounts up to 20% off found only at WatchesHead.
Remember, "Elegance is not about being noticed, it's about being remembered". -Giorgio Armani.
Let us help you be remembered today!
WHY SHOP WATCHESHEAD ?
Free Shipping
100% New & Authentic
2 year warranty
Up to 80% OFF Retail